Hot and Sweaty — Sexy Bedroom Decorating Ideas
The bedroom is not just the place we sleep, although many of us seem to treat it as such. We choose a bed for comfort and as a nightstand to place our laptop on, and we rarely give it much thought beyond that. Some might go the extra mile and try to change the design or a decor aesthetic that will give the room some personality.
Lots of sexy magic can happen in a sleeping room. If you want to upgrade the design and turn it into a pleasure room that inspires naughty thoughts and hidden desires, we've got you covered with amazing decor ideas. Keep reading to learn how to choose sexy decor and light and style the most important room of the house when it comes to your sex life!
Set the Mood With Sexy Bedroom Lighting
Lighting is extremely important for design. We all know that the wrong illumination can bring out the smallest flaws, and the right one can make the room look like a retouched painting. What's more, softer lighting guides our thoughts to more pleasurable activities, bringing us into the mood for some casual fun. So, what can you use to create the right ambiance?
Chandelier
No, we don't mean the extravagant chandeliers we see in old movies. Those usually cost a fortune, and they're better suited for bragging about your wealth than creating an intimate atmosphere. However, choosing the right chandelier can set a romantic design and sexy tone to the room. Choose a smaller fixture and forego the crystals to get all of the looks without breaking the bank.
Candles
Using candles is a tried and tested idea that will turn a casual night into a steamy one. The flirty intentions will be set right away, and you and your partner will surely look good by candlelight. Shop around and choose the ones that will work well with your decor so you won't have to throw them in a drawer after sexy time is done. There are some bonus points if you splurge to get the scented ones that will add a special charm to an already suggestive atmosphere.
Fairy lights
This one is an awesome design idea. If you want to turn a hookup into a cinematic experience, you can't go wrong with fairy lights. They create an ethereal dream-like atmosphere that will make anyone lucky enough to be in your bed feel like they've been taken to another dimension. Feel free to hang the lights behind or around your bed. For maximum effect, get a canopy, and strew it above and around.
Small lights
The color and intensity of the lights are major factors in determining whether your bedroom looks like it's a place to play or an eyesore. The good idea is to decorate your room with multiple lamps that give off yellow light. This is one step up from a regular dimmer as the lamps themselves will give off a diffused halo, creating a warm, intimate glow.
Color-changing LED lights
There are plenty of options on the market for intelligent lights that can be controlled from an app on your phone. This is a great idea for setting the mood, and it's also eco-friendly.
LED lights use a lot less wattage than normal ones, and they're going to last five times as long. And you get the benefit of turning everything into the perfect color to suit whatever mood you're in and decor you want. If you want to get down and dirty, you can turn on the red light. If you're looking for a more romantic atmosphere, the lights can be as soft and gentle as candlelight.
Cloth lamps
Cloth lamps are an interesting design approach that might be best suited for someone who already has some bohemian chic or hippie vibes in their bedroom. But if they match your current style, they're a great way to put sexy thoughts of lounging in bed into anyone's mind!
Make Use of Sexy Bedroom Designs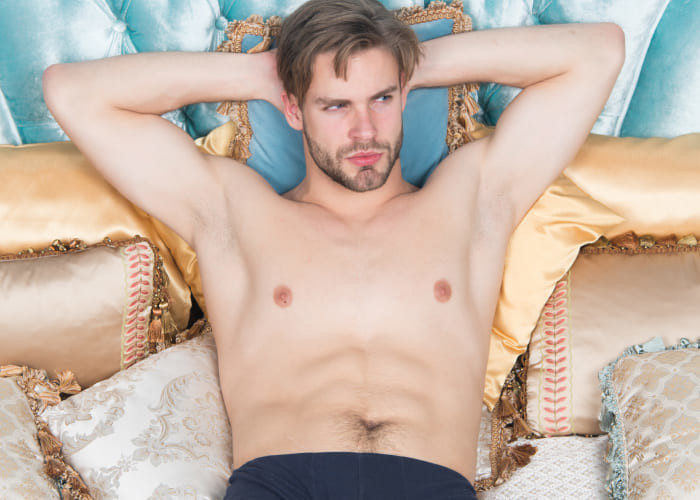 Lighting is only a small part of the decor equation. If you want decor ideas that will make your bedroom a memorable pleasure den, you'll have to work on its design. A sexy balcony or a lovely rug in front of the fireplace would definitely up your game, although they may require additional remodeling for someone's tastes. However, there are fewer drastic design steps you can take to spruce things up. Below are a few easy but effective sexy bedroom decor ideas.
Curvy decor
Curves are sensual and suggestive. They're associated with femininity, and they have a subconscious effect on whoever walks into your room and sees the design. Consider choosing lamps, vases, or even wall art that is curvy or wavy. Make sure to keep within your color scheme as these objects can draw the eye and clash if they don't have something to tie them together with the general idea or theme.
Casual bedding
Silk or satin sheets are an old reliable decor idea when it comes to a hot night. However, being sexy is also about being confident and comfortable. Sexy lingerie is a great idea if you don't feel awkward wearing it. If you can pull off the silky look without slipping off the bed, all the better!
Layers and textures
One of the best design ideas that create dimension in a bedroom is experimenting with layers and textures. Many objects can draw one's eye in this room. Alternate different colored layers that contrast with your decor. Get velvet or silk throw pillows to add different textures into the mix.
Dark colors
If you're committed to sensual bedroom décor, you can take the plunge and paint the room a dark rich color. Another design idea is to go for a one-accent wall, with the best tones being rich jewel, dark emerald, or intense ruby. If you pair the paint with accent pieces in the same tone, you'll have an outstanding design aesthetic and attract your partner you're your sensuality.
Canopy
A canopy is a good decor idea to make it seem like stepping into your bed is like crossing the threshold into another world. It gives an additional sense of privacy and intimacy that's especially great if your bedroom is on the bigger side. Canopies are also great decor because you can further decorate with other fabrics or fairy lights. They're versatile and provide that little extra isolation needed for engaging in intimate activities.
Minimal clutter
Although the decor is a great idea for creating an ambiance, you should always be wary of clutter. Go for minimal pieces and avoid knick-knacks that will serve to gather dust. Whether you have a collection of stuffed animals or a love for tchotchkes, they're best kept out of your bedroom. Clutter can cancel the effect of any other design decision you've made. Keep things neat, tidy, and sexy.
Additional Sexy Bedroom Tips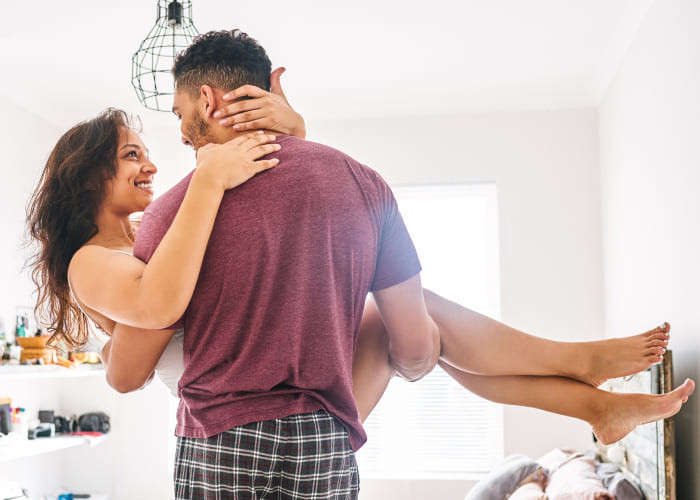 If you want to be the person whose bedroom inspires people to have naughty thoughts instantly, these decor ideas will do the trick. Let's explore a few insights into how to create a sexy bedroom and the science behind subconscious desire and interior design.
Clear your bedroom of all work-related things
This is a fatal mistake people make when trying to make their bedroom the perfect space for intimacy. Even if you remodel, change all your furniture, or replicate a page from your favorite magazine, it will all be useless if you anything related to your job. Business notes, notebook chargers, and work devices spoil the mood faster than you'd think. Try to separate your work life as much as possible, and never use your bedroom as a makeshift office.
Upgrade the decor, lose all of your stuffed toys
This advice goes for any other collection you might have that screams teen or pre-teen. Your bedroom is the room where grown-ups do adult things. The last thing you want to remind your partner of is a moody pre-teen who sleeps with her teddy bear. Regardless of how much sentimental value your toy might have, they have no place there. Pack them up and stuff them in the closet if you hope to have a quality sexy time.
Don't sacrifice comfort
As you redecorate, remember to include comfort in your design decision-making. Not everything that is sexy is also comfortable. An awkwardly shaped bed or a lacquered wall might complement the aesthetic you're going for, but such things won't work in the long run. Keep in mind that your room is a space that doubles as your love nest. Make sure the bedroom can fulfill its functions without too much hassle and decor switches.
Add mirrors
This is an extravagant design decision to make, and it will add a whole new layer to any erotic experience. Placing mirrors above or around your bed will give you and your partner a better view of your sexy activities. With that said, it may not be for everyone. If you lack a bit of an exhibitionist streak, you might want to skip on this one.
Keep your adult toys hidden but close
If you have any props that spice up your encounters, keep them close at hand. Getting up to get them from your chiffonier just as things are getting heated might kill the mood. Nevertheless, keeping toys on display isn't a good idea, either, as some people might find them overly suggestive. A drawer makes for a great place to access them easily.