Stuff to Do When Bored at Night – Make Some Fun
Most of today's current events dictate that we stay at home more. Instead of finding it a little bit infuriating, you should know how to treat it as a gift of time to relax as you learn one thing or two. There are always some productive ideas to execute or something fun you could be doing around the house. It is whether you're alone or with your boyfriend or girlfriend.
These creative activities can boost inspiration when you don't know what to do when you're bored at night. They are essential because night boredom can create sleep troubles as the mind starts to race, thinking how to see the night off.
When you feel bored at night, there is a range of ideas that can proactively fill your time. It's a great way to create fun and enjoy meaningful moments even when you're alone. It is the reason we help you discover things to do when bored in bed.
By the end of this article, you'll have amassed a wealth of ideas to kill boredom and find joy in your little room. It's a great way to strengthen some of your hobbies, learn new things and improve your wealth.
Discover Different Places to Go at Night When You're Bored
Don't let it feel super frustrating trying to think of things to do when bored at night. Lying in bed doing nothing may only worsen the situation. So, what fun things to do when bored at night?
Let's start it off by mentioning places to go at night when you're bored.
Go to enjoy a free outdoor concert
It could be you haven't just known it yet, but most cities have some venues for free outdoor concerts. You could do a quick internet search that would reward you with such functions in your location.
Have a game night
You don't have to be two to play a game. Think of the tons of games you can play alone. They are not limited to solitaire, Simon Trickster, or Hopscotch. And it doesn't necessarily have to be a computer game too.
Do a spa evening at home
It is achievable using the basic items you already have at home. Pamper yourself by doing facial using homemade facial recipes. Have you tried Epson salt bath even for 20 minutes? What about doing manis and pedis with your favorite nail polish colors?
Bored night equals a movie night
A movie night doesn't mean heading to the movie theaters. Sometimes it's just refreshing hosting yours at home. We all know the latest DVDs that we've missed. It could be its time. You could even watch some great YouTube videos or rent new Netflix Movies.
Time for a backyard bonfire
Whoever tires of them? Imagine sitting by a fire in the calm and comfortable nighttime and a perfect atmosphere. The conversation is a great ingredient to this, but you can still brave it alone and enjoy it. You could have soft music playing by. It's great stuff to do when bored at night.
Go to walk down the streets
At night, the hustles and bustles of downtown streets have completely ebbed. Your cozy little town, with the light, distant music, and a few people is quite beaconing at the time.
Become friends with your kitchen
Why not spend the boring night trying some cooking ideas that sound fun? Whether it's a pasta dish, soup, and stew, early breakfast meal, or meat dishes like meatloaf, this is the amplest time to try it without distraction.
Do you enjoy dancing?
Why haven't you thought of heading down to the nearest nightclub or a local bar with hot music tunes? Even if your steps are awkward, this would be the right time to meet some people with the weirdest dance styles you never imagined existed. They'll make you build confidence in perfecting your dance steps.
Go reminiscing
If it's safe, walk around your neighborhood or town, visiting places that hold special memories. Sometimes, you don't have to step out of the house. Go through your past photos or videos, evoking precious memories.
What of Volunteering?
There could be a place in your neighborhood where you could spend an evening or night volunteering. You could spend the special time with someone housebound or elderly or volunteer at a crisis nursery.
Here Are Fun Things to Do When Bored at Night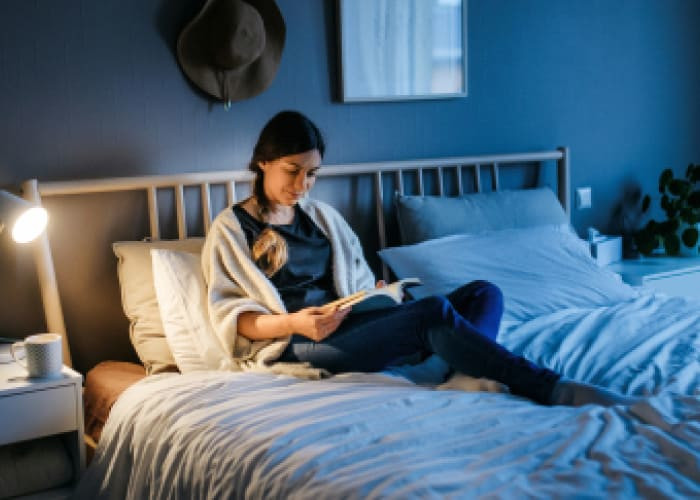 If you were wondering, you're not the only one bored in bed at night. All of us have been there at one time or another. Do you remember lying in bed awake, wondering what to do when bored at night alone? Who said the night is not supposed to be a fun time?
Here are things to do in your room at night when you're bored and sleep feels a distant far.
Try light reading. Reading is a great way to take your mind off things.
What about listening to relaxing music. It is not about referring to the heart-pumping tunes that would only keep you awake longer. Go for smooth classical tunes or blues that soothe you to sleep.
Bedtime chat could be appropriate when you have a boyfriend or a girlfriend who can keep up late.
Try a little yoga in your room or any other body-stretching exercise. It doesn't have to be strenuous at night, just a slight stretch to flex the muscles.
How about preparing a warm cup of milk or herbal tea? You could also take a sleep-friendly snack like almonds, cherries, and sliced turkey.
Calm your body and mind by doing meditation
A relaxing bath could do your great body wonders at night. Think of doing a leisurely soak in warm water. You could make your bath better by adding scented oils and lighting candles.
Browse through an old photo album. The memories it would revive are worth the time.
One of the things to do in your room at night when you lack sleep is work on a puzzle. It's a great way to sharpen your mind and get it off troubling things.
People are quick to forget prayers. It works just like, but more than meditation. Calm your mind with a little quiet night prayer.
When you run out of something to do on a sleepless night, organizing or cleaning your room or kitchen can get your mind off being bored.
Do you want to feel more ready for tomorrow? Making a to-do list should form one of the things to do when you are bored at night. It's ample time to plan your day.
Go by the window and just watch the stars twinkle in the sky. You could even grab a chair and sit at a perfect spot that rewards with a serene view.
Jump on your bed severally while enjoying how both foolish and childly it feels. You might find yourself hysterically laughing for no reason at all.
Do you like drawing? Check your materials and try drawing anything that comes to your mind.
Dance to that epic music or any tune that can get you to wiggle at that time of the night.
Go creative and find fun things to do when bored at night. Use random objects you can access to create something special that comes into your head.
Go nude and do some dance styles in front of your big mirror.
Try living the moment like a blind.
What to Do When Bored at Night Alone – Read Our Useful List
There are times when you struggle to catch sleep in vain. So, you're there gazing helplessly at your ceiling, wondering how the night would end.
No one wants to be lying in bed doing nothing for hours. Here is a list of what to do when bored at night alone.
Revise your life goals and make plans on how to adjust your lifestyle accordingly. You could write the goals and place them where you'll see them each day.
List down all the emotions you experienced during the day and learn something about them.
Google tongue twisters and try them out loud at night. It doesn't matter if you feel silly at how many times you fail. You could even record yourself and just enjoy listening to them.
Is there a pool nearby or a lively beach? Go for a midnight swim.
Try out some slight exercises and body stretch.
Stand up and dance. It's a great way to exercise and just feel like the wind.
Start scrapbooking. It could feel time-consuming but rewards greatly.
Play some video games.
Invite your best friend(s) over and just share some great moments.
Sing or learn to sing. Play your favorite song as you sing along. Very soon, you'll tune your voice to come out great.
Things to Do in Your Room at Night When Bored
If you have a room where you stay all by yourself, there are plenty of things to do without disturbing or being distracted by someone.
It's a perfect time to create a bucket list. Just make one from scratch and perfect it later.
What to when bored at night alone? It's a great time to think of yourself. Get to know who you actually are by journaling. Get related tutorials from websites like YouTube.
If you want to earn some money online, get paid to share your opinion. Some of the online surveys conducted by companies pay well to get your opinion on a particular product or topic.
Try making your favorite cocktail using what you have in your house. Nowadays, it easy to learn lots of things from recipes to exercise with the help of tutorial videos.
Read a book. Curl under your blanket with a good book and a cup of tea beside you.
Girls could practice doing nail art or give themselves a manicure. There are many pretty designs to try.
Have you ever tried calligraphy? It is a fun skill to learn, and the result usually looks beautiful. Watch online tutorials and pick up a calligraphy set for beginners.
You don't need a fancy camera to enjoy a photography night. Most smartphones come with great cameras. Try every pose at every corner of your room. You could even change clothes as you take different shots.
Declutter and organize your closet. It helps you appreciate what you have. You'll even realize you almost forgot some great pieces that were your favorites sometimes back.
Think about your finances and make new plans. List all your monthly expenses against income and spot where you need to improve. Whether the fruits from this go to savings or investment is your call.