The Best Sexy Truth or Dare Questions to Ask Your Girlfriend
By setting up sexy dare questions, you'll see how your girlfriend feels and what she likes. Such naughty truth and dare game will surely get you both hot and bothered, ready for steamy action. There is no better way to spice up your love life than by using unusual and kinky sex dares for her. At the end of the game, you'll treasure every second spent together.
You've probably been playing sexy truth or dare for a long time, but now that you're an adult and in a relationship, you can take it to the next level and play the question game's dirty, freaky, and naughty version. We've prepared a list that includes everything you will possibly need to set it up. You can get to know your partner better, figure out what they like, try new things, and have fun together.
Hot Sexual Dares to Ask a Girl That She Will Love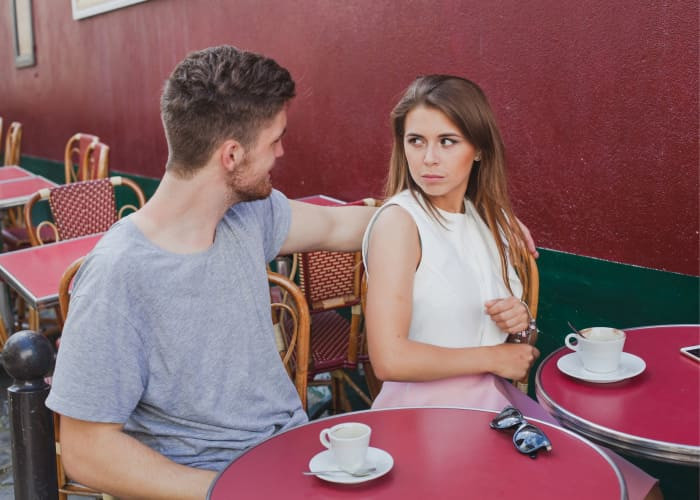 Girls love the sexy truth and dare game just as much as guys do. It's time to put aside the misconceptions and get ready for a romantic evening that will undoubtedly lead to a hot night. It's a good idea to make the preparations to set up the romantic mood. Slow music, scented candles, and good wine can do the trick. You can even spread rose petals in the bedroom to get it ready for sexy truth or dare questions to score points with your girlfriend.
A romantic setup can be excellent; however, if you don't have time to prepare appropriately or your girlfriend is not the romantic type, there is no issue. Just go with the flow and let cupid lead your way. There is, however, one rule: don't expect the other person to be just as open as you are. Sexual experience and imagination vary from person to person, and your girlfriend might not be as open to as many things as you are.
Make sure to start gradually with your sexy truth and dare game and work your way up until you reach fascinating and sexy dares for girls. The key is to form a bond and for her to open up so she can be more relaxed and answer your questions honestly. Also, alcohol helps a lot with inhibitions.
The best part about a sexy truth or dare game is that new and married couples alike can play it. Rekindle the flames of passion with your wife and let her know that you still have what it takes to swipe her off her feet with some sexy wife dares.
There is no age limit to get naughty, and sex is always better with a person you love and trust the most. Why not explore your deepest fantasies with your significant other and complete the "to-do sex list" in the bedroom? Show her that you are not an ordinary guy but someone who can fulfill her biggest fantasies.
When preparing for a sexy truth or dare game, consider these sexual dares to ask a girl:
Turn the lights off and try to excite your partner by using sounds only
Do a lap dance for 10 minutes
Give your partner a full body massage
Let them watch you masturbate, but they can't touch you no matter how hard you beg
Do whatever your partner says for one minute
You'll get asked three questions about them. If you get them right, you'll get a reward. If you're wrong, you get a punishment
Kiss them somewhere you haven't before
Put some whipped cream on them and lick it off
Go skinny dipping or take a hot shower
Send them a naughty picture while being naked
Society tends to desexualize women and oversexualize men, which is not good. Girls have just as many naughty thoughts and needs as guys do. It's the society that tells them to hide such thoughts or be ashamed of how they feel or think.
Help your girlfriend or wife open up to you with a sexy truth or dare game, and you will be genuinely amazed at how much better your sex life will be. Also, by them feeling safer, you might even discover a hidden side of your partner you didn't even know existed.
Kinky Sexual Dares to Ask a Guy to Get Him Excited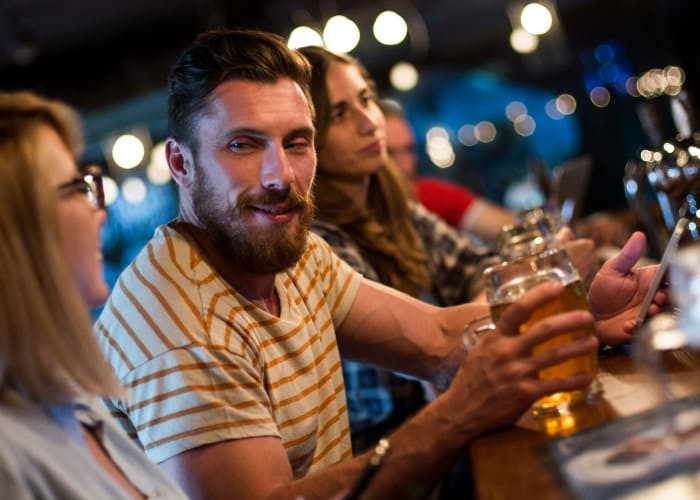 Guys are always in the mood for sex, or so the legends say. In reality, day-to-day life can take a toll, especially on married couples. There is no better solution to make him relax by spicing up your sex life with sexy truth or dare.
Everybody knows since the dawn of time that men are visual creatures. If scented candles work their magic for girls, a sexy outfit can do the same for a guy. We also know that the way to a man's heart goes through the stomach, so a tasty dinner can be just what you need to set up a hot atmosphere.
Dress up in sexy lingerie or perhaps even a roleplay costume and cook or order food. He will surely be surprised, and in return, he will surprise you later in the bedroom.
Once the preparations are done, you can challenge him to a true or dare sex game. He will most likely be impressed and intrigued and will be more than happy to get into the mood. Indeed, men can be equally as shy as women sometimes. Thus, don't be surprised if things go slowly at first or if you discover numerous fantasies your man had about you by playing sexy truth and dare.
Without any other ado, here are remarkable ideas for really sexy dares to ask a guy:
Try out naked poker, with the loser having to drop a piece of clothing. You don't have to be good at it because, in the end, you will both end up naked.
Sing the chorus to a song you like while having sex.
Put a blindfold on and kiss the body part placed in front of your mouth.
Take a suggestive selfie to send to your partner.
Whisper something in your girlfriend's ear that will turn her on.
Have sex someplace you haven't done it yet.
Go online and order a sex toy you think your partner might enjoy.
Watch a porn video with your significant other and try to act it out.
Do your best to make your girlfriend orgasm in the next 5 minutes.
Try to arouse your partner by touching their body or speaking to them, but without touching their genitals.
Tell your partner what you've fantasized about doing to them when you were alone.
See how your partner reacts to these freaky sex dare questions. This way, you can improvise and make the experience better every time you want to start naughty action. You can go through naughty dares in turns and try sexy truth or dare questions when you feel like making love.
Guys might be more in touch with their sexual side than women. However, that doesn't mean you can't help your significant other to get rid of his inhibitions or forget about stressful days and focus on more beautiful things, like your body. A round of sexy truth or dare could be your new tradition for your anniversary or birthdays or an activity to do on weekends.
Sexy Truth Questions for Couples to Set the Mood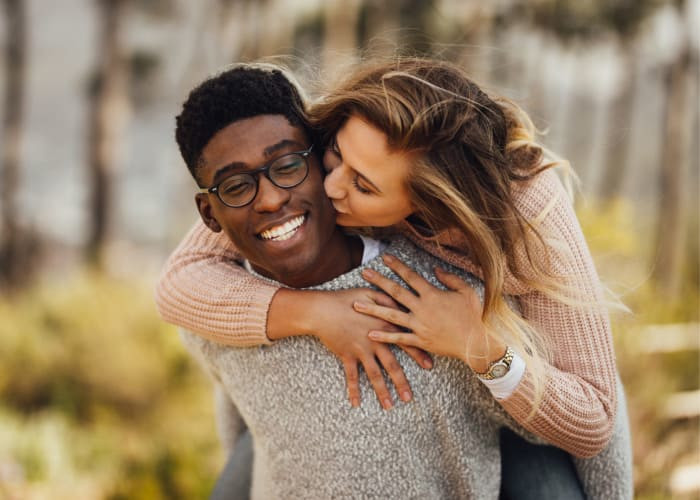 It doesn't matter if you are a guy or a girl. The thing is, everybody needs to get naughty from time to time, especially if you've been in a relationship for quite some time. Surely, every couple is different, and for some, things go naturally and without a hitch, but not everybody may be that lucky.
You can play a game with your partner to find out their deepest fantasies using really dirty dares. You'll be surprised to find out how much this can turn both of you on.
Once you have insights into your partner's mindset, you can go out and have fun. It doesn't necessarily have to be the bedroom, and you don't even have to be together. A naughty pic sent to your partner in the middle of a meeting will surely make him smile or get his mind off a stressful situation.
Remember that exotic trip your significant other wanted to go on? Consider taking things one step further and explore hot fantasies in the sand while the blue waves gently touch both of you. Besides the fact that this can stir the butterflies in the stomach, it will also juice up your sex life. Outdoors are not just for walking, after all.
When it comes to getting freaky, only the sky and your imagination are the limits. You can always come up with some ideas by asking your partner. However, to make things easier for you, here are some sexy truth or dare challenges:
Demonstrate your oral technique using a banana (for women).
Demonstrate your oral technique on a peach or an oyster (for men).
Feed your partner using your mouth or try and eat foods from your partner's naked body.
Check out websites or the Kamasutra and find a position you've never tried before.
Try kinky trivia and take off a piece of clothing every time you get an answer wrong.
Lick peanut butter, chocolate, whipped cream, or whatever you prefer off your partner's finger, lips, or area of your choice.
Take a picture of your "O" face for your partner to use it as a lock screen for 48 hours.
Take off your partner's clothes using your mouth. While it can be genuinely challenging, it's worth it.
Do a sex act of your choice; the first to cum has to do chores.
Make a sex tape and get freaky. Besides being a great experience at the moment, you can always watch it again together.
Do some roleplay. Meet at an unknown location and flirt like strangers, make love at a hotel, and try to win each other's hearts once again.
Now you have everything you need to have a great experience. Use any naughty question and sexy dare, make your own, and have the best freaky time ever. Get naughty, think kinky, feel sexy, and have fantastic sex after playing sexy truth or dare