Sex Costume Ideas to Explore
Sometimes, sexual adventures and finding passion between the sheets require a new approach. If you're tired of adopting the same old approach to passion, then perhaps it's time to make a change. Whether your partner is more adventurous in the bedroom or you're eager to try something new, opting to introduce some interesting outfits could change everything. Don't be afraid or shy away; you'll surprise yourself once you start exploring the available options. Whether it's completely wild or keeping things simple, just having fun and engaging in something new together can really make a difference, so take a peek at these amazing ideas, and you'll soon find yourself browsing online for some new outfits!
Try Out These Sexiest Couple Halloween Costume Ideas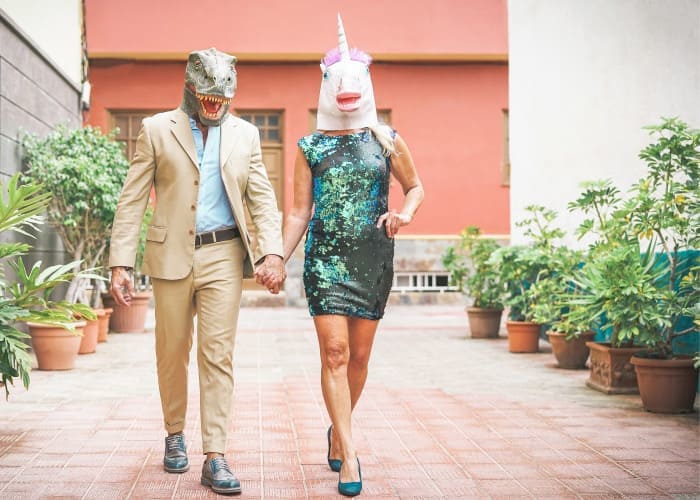 Halloween isn't just about spookiness and tricks; it can also be about exploring new opportunities to feel sexy and act sexy!
The following ideas are sure to blow Halloween traditions out of the water!
The Plug and Socket Couple
We all understand that innuendos and suggestive ideas can work wonders, so why keep things to the imagination when an outfit can really show what you're about as a couple? The Plug and Socket outfits provide a fun and exciting alternative to standard Halloween outfits. It's a classic innuendo whereby the guy shows how eager he is to put his plug into the woman's socket!
Adam And Eve
These funny outfits leave very little to the imagination. Sure, we all understand how the mind works when exploring suggestive ideas, but visually, these outfits are certain to get couples laughing and wondering what's beneath. With the private areas modestly covered, there's nothing stopping couples from wearing absolutely nothing underneath!
The Hot Dog and Bun Outfits
Now, these outfits require some form of imagination; after all, they don't immediately make you think of Halloween, but there's more. Firstly, Hotdogs are a common treat on Halloween, so that works. However, let your imagination explore things a little further, and you'll soon realize that one goes inside the other...you get it!
Top Gun Pilot Outfits
You're flying together this Halloween, and these outfits make you look like Maverick and Charlie. The fast-paced world of soaring through the skies can be replaced with a fast-paced route to the bedroom! You'll be breaking the sound barrier in no time at all.
Baywatch Lifeguards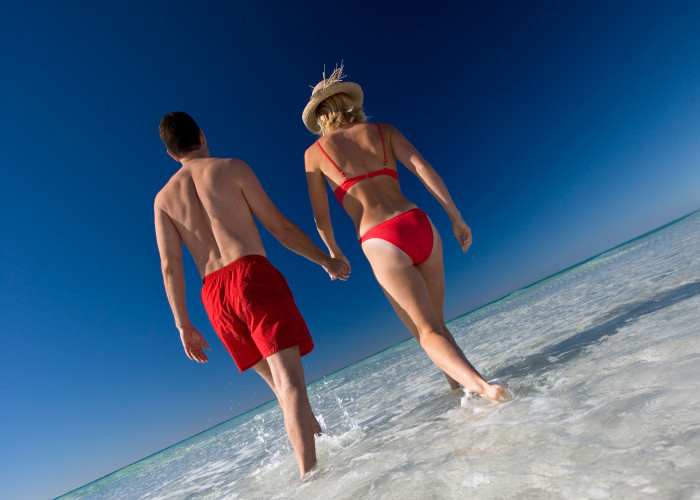 Whether you're pretending to be Pamela Anderson or David Hasselhoff, this outfit is guaranteed to give you that sun-kissed beach vibe from the moment you put them on. They're quite revealing, but that's the whole idea, isn't it? Leave your swimsuit slightly unzipped, and the men can let their hairy chest free because that's what Baywatch is all about!
Peanut Butter and Jelly
Everyone knows that peanut butter and jelly is a match made in heaven. You're sure to get some giggles when donning these outfits, but more importantly, there's some kind of hidden message here because at some point, they're certain to come together and one of them definitely contains nuts!
Cookies and Milk
You dip one into the other, and the classic combination comes together to deliver a taste sensation. This cheeky outfit will certainly turn heads and leave people wondering about the suggestive nature of this outfit. Now, should the man be the cookie or the woman? After all, you dip one into the other, so perhaps this takes care of itself!
The Olive and Martini Outfit
Olives and Martini go together like wine and cheese or Sonny and Cher. You get the idea here. This simple yet intriguing outfit is guaranteed to generate some laughs, and when you're both feeling happy, you might as well have a real Martini in your hand to embrace the moment together!
The Deer in the Headlights
Picture this, the female wearing the headlights outfit and the guy wearing the deer outfit. Ok, now you understand who is wearing what, you can now picture where the headlights are positioned! This couple's outfit is guaranteed to have everyone laughing while you can have a whole load of fun at the same time!
Salt and Pepper
Always together and never apart. No, we're not talking about the American hip hop group, but we are talking about the condiments that adorn every table in every restaurant! A humorous costume yet simple, but you both add a load of flavor when you come together.
Yin and Yang
They say that opposites attract, and nothing says this more than Yin and Yang. While you might spend the evening apart and mingle with others but you're certain to be attracted once the evening comes to an end and you're all alone.
Avatar Costumes
Avatar came with some interesting costumes, and they certainly add something more to those Halloween evenings. They're intriguing, leave a lot to the imagination, and that blue body paint will give everything away once you hit the bedroom!
Bamm Bamm and Pebbles
That caveman and cavewoman look will certainly turn heads, but there's something almost sexy and sassy about being scantily clad in very little clothing. It's time for Bamm Bamm to put his club to good use and show pebbles what he's all about.
Donald and Daisy Duck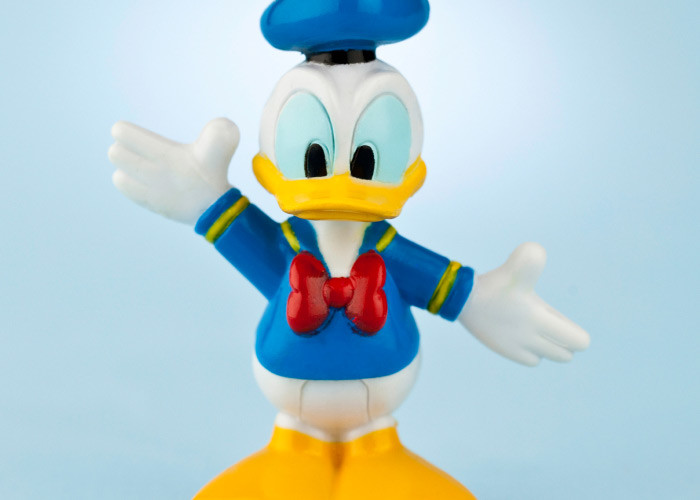 Daisy has a sassy and naughty look with her short skirt, feathers, and low-cut top. Donald, on the other hand, is mischievous, funny, and always looking for fun. It's the perfect couple outfit, surely?
The Dalmatian Costume
This outfit can become one that has a hint of domination about it. You've got Cruella Deville and a dalmatian on a chain. While domination might be something more suited to the bedroom, this interesting yet seductive outfit is perfect for setting up the end of the evening!
Peter Pan and Tinkerbell
The boy who never grows old and the beautiful Tinkerbell in her low-cut fairy outfit considered classics. It's the perfect combination for any Halloween party!
How Sexy Halloween Outfits Can Heighten Excitement
Dressing up in suggestive outfits is often something that's refined to the bedroom. Of course, the outfit of choice when keeping things sexual can differ from those commonly seen during Halloween. Despite this, Halloween provides the perfect opportunity to explore your inner desires in public by keeping things cheeky and suggestive.
Many outfits are designed to simply showcase that you're sexually active such as the plug and socket outfit, while others seem to slip under the radar and go unnoticed. Despite this, the outfit you choose isn't just about giving others something to enjoy because it's more about giving you the opportunity to enjoy each other in public in a different way.
Of course, revealing outfits you choose to wear can be seen by others, but perhaps that level of excitement keeps couples excited and ready for the end of the party.
Sexy Couples Halloween Costumes Keeps Passion Going
It's fair to say that most people enjoy dressing up for parties. It enables people to become something more and something different for just a few hours. Despite this, the experience of getting ready in your costume and stepping into that party mode is just the beginning. While most parties are enjoyed in standard clothing, Halloween outfits can be revealing, sexy and sassy too. This leaves both of you with the ability to continue to enjoy each other as the evening unfolds. Whether it's a revealing skirt or a guy wearing a revealing outfit, couples can continue to increase the passion with subtle glances, cheeky smiles, and suggestive comments.
Always Remember to Keep Contain Your Feelings
Seeing your girlfriend walk around wearing next to nothing or your boyfriend with his torso on the show is certain to get your pulse racing. However, when dressing up for Halloween, remember the whole day and evening is about fun. The spookiness and creepiness of the event is the reason why everyone loves everything about Halloween.
However, with your partner being dressed up and on display, it's natural to feel turned on or passionate. Despite these feelings, put them on hold and allow the momentum and passion to build throughout the evening. The more you allow this to happen, when you eventually return home, you'll both be ready to take things to another level and explore your desires. Sometimes, good things come to those who wait. So whether you're eager to get Tinkerbell into the bedroom or want to show Maverick a trick or two, you'll benefit more should you be prepared to enjoy the moment and wait for the right time. Keep your partner on their toes, keep them intrigued and keep them guessing. Halloween is an amazing experience that's always magical, but there's plenty more to gain from the event if you both opt to dress up and embrace the moment with a cheeky costume that leaves you both absolutely craving each other.