Explore the Wichita, KS Nightlife
With plenty of joints, fun activities, and nice people, Wichita, KS, is indeed a gem for those looking for nightlife fun. From a humble meat-packing and aircraft manufacturing town, Wichita has rapidly transformed into a modern and prosperous city offering almost all sorts of pleasures.
If you love partying and enjoy good food, the nightclubs in Wichita, KS, will not disappoint. Some local dance clubs and bars offer exceptional services. Not to mention, local residents' warm and friendly demeanor will definitely enhance your nightlife experience and make it even more memorable.
If you only want to have a few drinks in a simple joint, there are several dive bars you will find interesting in this town. Most of these joints offer food, drinks, and even live performances. For club lovers, this great town will likely leave you reminiscing the pleasant memories of amazing nightlife outings.
Amazing Old Town Bars in Wichita, KS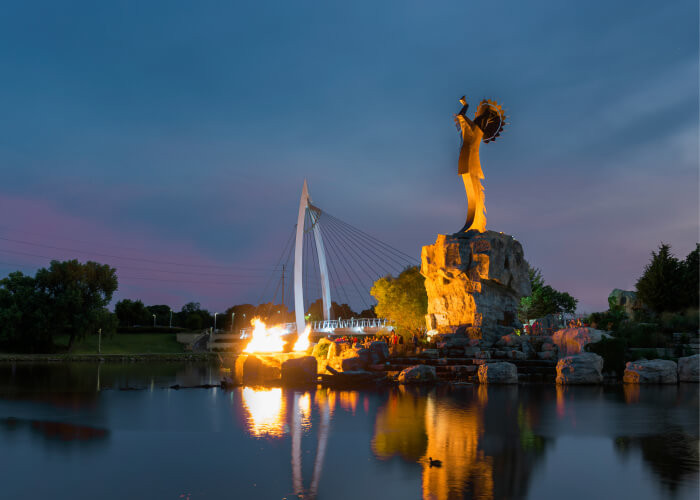 Throughout the years, this old town has remained a prominent travel destination for guys and gals searching for nightlife thrills, and rightfully so. Whether you are a local or a tourist, Wichita's charm will definitely melt your heart away. The town is a popular destination for those who fancy good food and alcoholic beverages.
Wichita, KS also has a rich history, which explains numerous art galleries and museums present in many parts of the town. If you prefer to enjoy the nightlife by drinking and eating out, you have to visit one of the fantastic establishments mentioned below.
Top 3 Joints to Visit in Old Town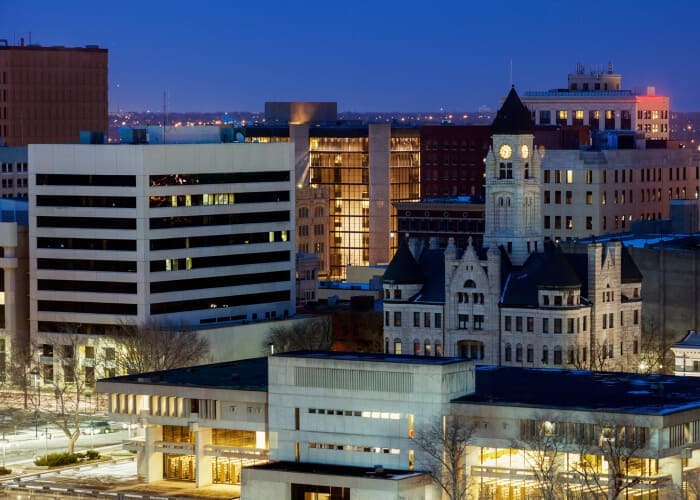 Public at the Brickyard
This great joint has become popular thanks to its farm-to-table cuisine and cocktails. This bar is situated near Old Town's music venue. Public at the Brickyard boasts a rich menu featuring local delicacies that come with proper seasonings. The bar is one place where you can come and enjoy delicious meals while sipping one of many tasty cocktails or beers.
Larkspur Bistro & Bar
This joint is among the few bars in the old town that serve American, Italian, French, and Mediterranean dishes. While people often go to bars to enjoy their drinks and maybe play pool, this bar offers more than that.
Apart from the warm atmosphere, this joint's music often comes from a baby grand piano. The highlight of Larkspur Bistro & Bar, however, is its live jazz bands. Though these bands don't make daily appearances, the bar is often full.
Another aspect that makes this place a popular destination is its first-day seafood offer. Visitors can enjoy rare dishes like grilled trout with mango salsa while sitting outside on the patio and appreciating the breeze and greenery.
Pumphouse Bar
This popular bar is situated near a converted gas station that dates back to 1931. Pumphouse Bar remains a popular destination because of several reasons. Besides the TVs that make any game day enjoyable, this joint is also famous for its good cocktails, serving alcoholic drinks, and plenty of pig and cheese pizza.
Here are other awesome bars to visit by nightlife connoisseurs:
Mort's Martini and Cigar Bar
The Brickyard
Industry Old Town
Emerson Biggin's
Top Tips for Those Looking for Dance Clubs in Wichita, KS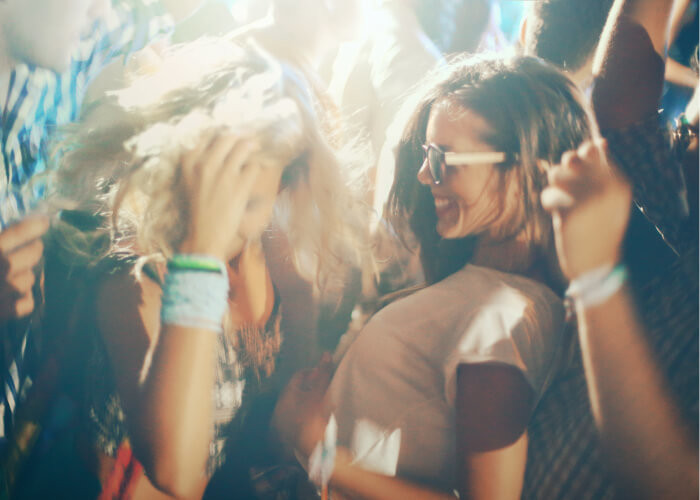 There are many exciting dance clubs and bars to visit in this town. Nightlife aficionados always have plenty of options whenever they wish to rave. Below are the top dance club tips for both men and women to have a blast in nightclubs of Wichita, KS.
Bring a trusted partner
A night of partying out may always go wrong fast, especially if you're all alone. Bringing a friend along has many benefits. Besides watching your back, having a companion tag along is a huge confidence boost. For social people, experiencing the nightlife alone is probably not the best idea.
Ensure you are featured on the guest list
These days, in many dance clubs, such a list often involves some benefits, and signing up for it is always a good idea. Some of the benefits include free entry into the club, on-the-house drinks, or discounts. The added advantage of being on this list is that you often get to skip queuing up when entering the club. You can access the list by either calling the club for details or simply visiting their social media page.
Book a table
Go for this option only if you have some extra cash to spare or if you intend to invite many friends or acquaintances for a night out. Many dance clubs have special packages for large groups from time to time. However, if you are only going to bring a plus one, you can make do without booking a table.
Dress well
Dressing up is a necessity whenever you are out seeking nightlife adventures. Your choice of clothes should be comfortable for such an occasion. Many girls, for example, make the mistake of wearing high heels. While the option of donning those stunning stilettos might be alluring, it's worth noting that dancing is nearly impossible with them on. For all things clubbing in Wichita, KS, sneakers will do just fine. Additionally, many clubs these days dictate the dress code for the night, and in case of not following the rules, one may be refused entrance.
Apply waterproof makeup
Dancing is an inevitable part of any nightlife experience. The next time you find yourself in Wichita, KS, make sure to put on waterproof makeup. Some people will choose to go out without applying any, and that is totally fine. Everyday makeup will most likely be ruined from all the sweating as you dance.
Always pack essentials
Before you enter any dance clubs in Wichita, KS, always be ready to have an ID card with you, which will save you many headaches. You will rarely go through the door without an ID in most dance clubs unless the bouncers are your buddies. Thus, it's always good to have it on your hands whenever you go out since it will save you from the embarrassment of being denied access.
Enjoy Wichita Nightlife With the Best Bars in Town
Nothing attracts people to a city more than its nightlife. Like most towns, Wichita, KS also has its attractions, and its sites are definitely on top of the list.
Dive bars in Wichita, KS, are perfect for hanging out for most revelers, and the town has plenty to offer. These bars have an amazingly cozy atmosphere for people to chill and have a good time. Local establishments are often popular for several reasons, including live bands, drinks, and old-school jukebox music. However, what makes them stand out is that they attract a pleasurable, fun-loving crowd. Such crowds can make your Wichita, KS nightlife one to remember.
While the town boasts numerous fun dive bars, some of them stand out the most. Let's take a look at what they are and what makes them shine.
Kirby's Beer Store
Top attraction: The bands
Located east of 17th Street, this dive bar is arguably one of the best in town. It is located near the local Wichita State University and is ideally situated in a small building. Like many other similar bars, Kirby's Beer Store is small and hosts folk from diverse cultural backgrounds.
What this bar lacks in size, it makes up for in entertainment. There you can listen to some of the best local and other touring regional music bands.
Harry's Uptown Bar and Grill
Top attraction: The drinks
Situated east of Douglas Avenue, this vintage-style bar features a beautiful front with a patio. The bar is well-known for its deliciously prepared meals. While food is usually served up until late in the night, the menu has several exciting options for its visitors.
The bar has quite a chill atmosphere for customers to experience the town's nightlife while drinking, eating, or being glued to a TV screen. If you like watching sports, this is the place to be.
The Elbow Room
Top attraction: The sound
Situated east of Pawnee Street, this small bar is a good destination for people who enjoy live bands. With its small size, you could easily drive past it a couple of times without even noticing it. The bar has a tiny lit entrance sign, and its interior is equally small but quite cozy. Besides being a small joint, this bar hosts both local and regional touring bands. The Elbow Room attracts folk of mixed backgrounds, and you can easily make a friend or two there.
The Vagabond Cafe
Top attraction: Coffee and alcohol
Unlike other dive bars here, this one comes with a unique set of features. The Vagabond Cafe is partly a coffee joint and a bar. Visitors can enjoy drinking coffee or alcohol depending on their mood or taste. This bar opens as early as 7:00 AM, and clients are free to enjoy their drinks until 2:00 AM. Apart from alcoholic beverages and coffee, customers also have access to free Wi-Fi. This further makes the bar a comfortable place for you to chill out with your friends within Wichita, KS.