Several tips on how to take a good ass pic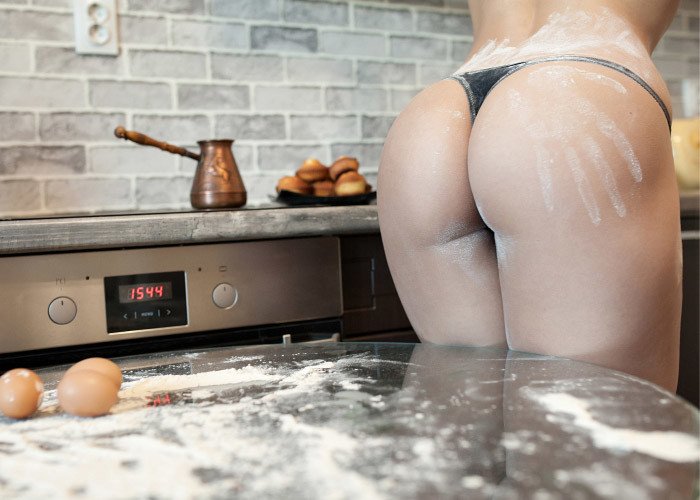 Many girls try to surprise their followers with colorful and vivid selfies. But due to a large number of users, now this no longer surprises anyone. In the modern world, the vastness of the Internet has grasped a completely new trend – belfie. What is it? Let's figure it out together.
Belfie is the same selfie, only in the photo; the main object is the butt. The famous American star Kim Kardashian introduced this trend. She often shares her booty picture with followers. Therefore, what is the secret to perfect Kim's booty pictures, and how do you learn to take seductive photos yourself? Below we have selected some tips for you that will help you not only take erotic booty pictures but also provide you with numerous followers who will admire your booty pictures!
Skin preparation
So, first, you need to do the stage of preparing your botty for shooting. Tanned bodies look most impressive both in the photo and in life. Therefore, first of all, you need to get a good tan in a solarium or naturally. But if you need to take a booty picture urgently and are not tanned at all, the spray tan will definitely cope with this task! Tanning very well masks irregularities that may be on the skin and also visually make the butty very seductive!
The next definitely important step is to get rid of any hair on your skin. A well-groomed bikini area and sleek legs make you feel more confident while shooting and get great booty pictures at the end. It also saves a lot of time for Photoshop.
Also, to make the skin smooth and look beautiful in photographs, a few hours before the scheduled shooting, use a salt or coffee scrub.
But that's not all; if you have any bruises or pimples on your skin, then they should be cured. From an aesthetic point of view, this is unacceptable and completely unattractive.
Most suitable clothes for the booty pictures
Leggings. Do not wear tight Lycra leggings. This should not make your hips much smaller but should accentuate your beautiful butty. It is best to use underwear made of nylon, spandex, elastane, which has a central and wide seam and stretches over the buttocks. Visually, your butt will look juicier, and your legs will look thinner. Specialized modeling underwear will also help; it will remove all your limitations and emphasize your advantages.
Shorts. When shooting in short shorts, part of your buttocks will be visible in the frame. This way, you can show up to half of your butty. Basically, short shorts of this type can give the illusion that your buttocks are round and taut enough. If you have not found suitable shorts for a photo in your wardrobe, do not be discouraged, you can at any time tuck the top of the shorts for the most advantageous view of your butty.
Sexy underwear. If you are more confident in yourself, then this option will definitely be for you. You can diversify your look with a bodice or peignoir. As for the panties, you need to choose the right style that will look good on the bottom. It can be thongs, shorts, or tango. Don't forget about the color of your underwear. White, blue, and blue colors will look great on tanned skin.
A man's shirt on a woman's body excites many men. Therefore, do not neglect this element of clothing, which will add spice to your booty picture.
In addition, the process of taking off any clothes looks very sexy, so ordinary jeans or pants are perfect for a successful shot.
Necessary devices for a successful booty picture
If you do not have a professional camera, a phone with an exposure correction app (making the photo automatically lighter and darker) is an excellent option. Self-timer will help you get into the right pose, and the multi-frame function will allow you to choose the best booty picture from many that have been taken.
It will be more convenient to shoot with a camera with a zoom lens with a rotating screen and wi-fi. On the phone, you need to open the application, which is controlled via the camera's wi-fi. The next step is to set the camera at a certain distance. In the application, you will see the current image from the camera and thus adjust your pose on the camera, as well as control the light and autofocus.
Do not forget about the background. It should be clean; there should be no unnecessary distracting details. Find the right tones. For example, if this is a morning shoot, pastel colors will look great. And if it is evening, then bright colors will create unsurpassed effects.
Set up the right light for shooting
Experiment with shadows! Shadows add volume, and bright lights from all sides will flatten your botty.
Pay attention to the side lighting of the butty. It is best to shoot against the light, rotating the butt about 10 to 20 degrees towards the light.
If you are in an apartment, then stand at a distance of 30-50 cm from the window, preferably against the wall. A curtain is not needed; if the sun does not shine directly into it, then one part of the photo will be too light and the other too dark. To shoot with a contrast effect, you need to use white curtains made of lightweight fabric.
It is better if the light falls from above, so your butty will visually look more voluminous.
Also, try the sidelight! Thus, the volume will be created due to the shadow on the part of the butty.
Artificial lighting can be used, such as a floor lamp or lamp. It is best to place it at waist level and, so that part of the booty is in the shade, stand sideways to the light source.
If the shooting takes place outdoors, the photos will be most effective during sunset and a couple of hours before it. The warm light of the setting sun will further enhance the tanning effect and the seductiveness of the body.
During the day, you can use objects to create shadows artificially. It can be palm leaves, an umbrella, or something else.
Pay attention to the foreshortening
It is best when the bottom of the butt is closer to the lens: shooting from below automatically makes the legs longer, the waist is narrower, and the butty is more beautiful.
It is also good if the camera is closer, so personal belongings and other body parts will not be shown in the frame.
To increase the volume of your butty, the camera should be slightly below the level of the butty or at the waist level.
And perhaps the most important concluding point is the posture
We analyzed and highlighted the options of booty pictures that collect the most likes on the Internet.
stretch yourself flirtatiously. If you are wearing a short shirt, then it will rise while seductively exposing the ass;
try crossing your legs while lying on your stomach. This will make your buttocks look fuller visually. Shoot yourself from above or slightly from the side;
lean forward and bend seductively on your knees;
focus all attention on your mouth-watering buttocks, loosening long hair that will cover your bareback;
put on light clothing and stand in front of the window,
so, the sun's rays will show everything that is hidden under it;
relax your buttocks to make your butty look more feminine.
However, do not forget about the trend of the photo in the mirror.
Turn sideways to the mirror; get rid of all the excess in the background. After that, turn your leg inward, which is closer to the mirror, and leave the other leg back some distance. Pull in your stomach and lift your hip up.
Experiment with foreshortenings and choose the most successful one. Take a few photos to choose the best later.
After choosing a photo you like, use Photoshop to edit it.
At the moment, there are many photo editing applications. Basically, many of them are paid, but this is a small sum to collect thousands of likes. So, choose the best quality and most convenient application to edit your booty picture. To do this, read the reviews and download some of the best apps according to the users. Many application developers offer a free trial version at the beginning of use. Try each one and find the one that works best for you. After that, remove all visible imperfections from your photo, add brightness, adjust the contrast and apply the proposed effects if desired. And only after that can you publish a delicious booty picture on social networks.
How to take booty pics by yourself
Many men believe that photos of girls in lingerie look very sexy and add extreme and spice to a relationship. Therefore, in order to increase men's interest in their person, girls pamper their partners with this booty picture. Earlier, we talked about professional photos that will help bring your page to the top on social networks and contribute to the addition of followers. But what about personal photos for your loved one. In general, for this, you will need a usual phone and possibly Photoshop. Take a booty picture using the positions above. Choose sexy clothes or lingerie, come up with an attractive place to look your best, and take a couple of booty pictures.
Don't just leave your butty in the frame. During the creation of the sexiest booty pictures, you do not need to take a close-up booty picture and completely undress, showing your entire naked body.
Leave some piece of clothing on you to make your butt selfies really attractive. This important detail will add some mystery to your image because definitely, the anticipation of intimacy causes an incredible desire.
Make it so that your face or another part of your body is in the frame so that a sexy butty is just a nice bonus in your future booty picture.
Expose the light in such a way as to highlight the dignity of your figure with the correct light; this will also hide imperfections such as cellulite or skin imperfections, if any.
You need to decide how you want to present yourself ...
Maybe you want to appear gentle or defiant. We have found for you some great positions that will make you sexy in the picture.
A cute smile can interest the male sex. Let yourself be natural and gentle:
If you like the image of a seductive beauty more, then use all means for seduction:
Your ass is a great thing for attracting male attention. Highlight your superiority and create the perfect look that attracts as many fans as possible.
Of course, every girl should have a beautiful booty picture, at least to raise her self-esteem. Such a picture can be sent to a loved one if you are sure of his decency. It is better to invite him to take part in the photo session as a photographer and, we think, it may end with a romantic ending. After all, men are very fond of a little erotica, and especially emanating from a beloved girl. Use our advice, please yourself and your loved ones, work on your relationship, and then it will give you extremely joyful moments.