Romantic Date Night Ideas at Home that Aren't Boring
Are you planning on having date nights at home from now on? It isn't a bad idea for several reasons: you don't have to get all dressed up; you don't have to spend an awful lot on going to a fancy restaurant, and you don't even have to leave the comfort of your couch! Plus, you can have as much date night fun at home as you can outside – date nights at home do not need to be boring! With going out becoming increasingly expensive, an increasing number of couples are looking into home date night ideas that can be had within their humble abode. Many of these new home-daters have been coming up with new and inventive ideas to have the most fun while at home – this article will detail the most ingenious home date ideas that you and your partner need to try. You'll be surprised at how much of a good time you end up having in a setting that is so familiar to you when you have a good idea.
Why Try Cheap Date Night Ideas at Home?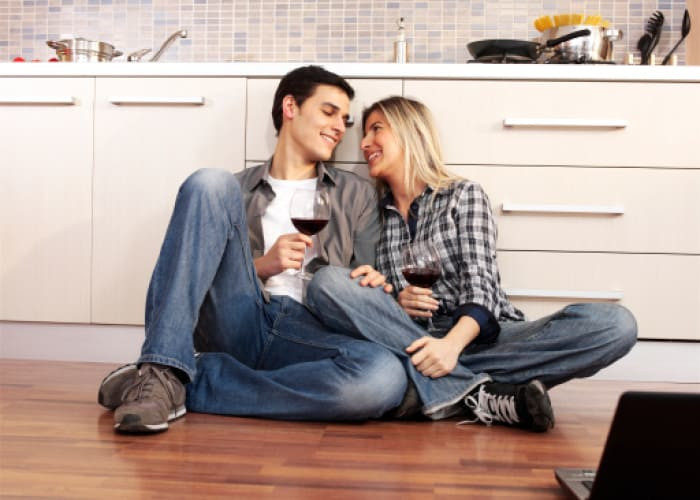 The world is changing. Even with lifted coronavirus restrictions, the lingering effects of the virus will be long-lasting. Many people will be aversive to the idea of going out for a long time. However, they do not like the idea of staying home for dates, given that they've spent most of their free time locked in at home over the last couple of years. So, now would be a good time to introduce some inventive at-home dating ideas to inspire all those struggling couples out there.
Organizing at-home date nights can revitalize your relationship, as it gives you the chance to realize that it's the little things that make you strong as a couple and not the fancy date nights that you used to go on. You'll realize that there is no need to go out as much, as you can have just as much fun spending time with each other in your own home
Perhaps money issues are what puts many off the idea of organizing at-home date nights. However, what if we told you that they didn't need to be expensive? Date night fun can be had at home regularly for a fraction of the price that you would spend going out for a fancy date. Think about the idea, when you go out for a date, and there are several additional costs that you don't first account for. On top of the price of the dinner or the few drinks at the swanky bar, there is also the tip, the taxi fare, and all the new clothes that you need to buy for each date you go on. When planning a cheap home date night for home, a lot of these additional fees are avoided, as, as much as you want to impress your better half at all times, you don't have to look your absolute best at all times in front of them. Plus, you don't need to drive anywhere, and there's no pesky waiter. You need to worry about tipping. It's just the cost of the activities you get up to at home that you need to worry about.
Of course, some at-home date nights ideas can be expensive. Say if you got a takeaway from a fancy restaurant, or if you bought in a few expensive bottles of champagne, you'd probably rake up the same bill as you would from going out on a date. But are these luxuries necessary? We guarantee you that there is just as much fun to be had at an at-home date while on a budget.
With a renewed appreciation for both your partner and your home, you'll be able to budget spending much better in the future by being resourceful with what you do on home date nights. In the long run, you'll be able to look forward to more frequent holidays that you've been able to save due to avoiding going out on dates and instead of staying at home.
Clearly, there are plenty of reasons to organize a stay-at-home date, plus, with a wide variety of at-home dating ideas, you have absolutely no reason to miss such kind of fun!
Surprise Date Nights to Organise at Home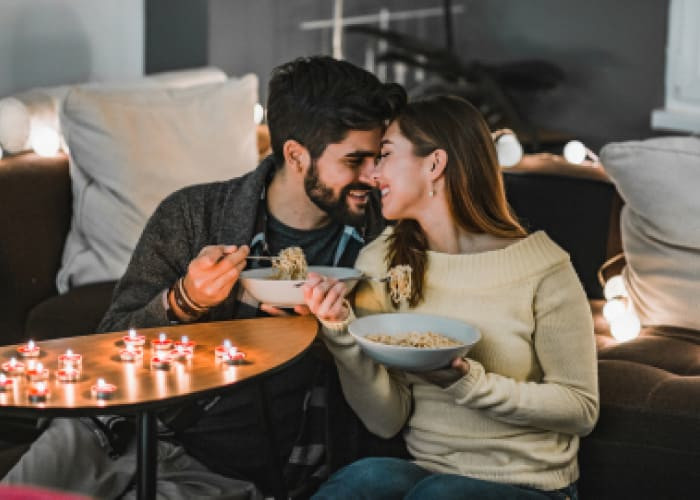 You may be thinking that surely the element of surprise has been removed? The element of surprise is definitely what made going out so magical; maybe your partner surprised you by taking you to a special restaurant unannounced. However, you'll be surprised to find out that there are many creative home date night ideas that you can organize at home.
Ideally, it would be great if your partner could leave the house for a while as you set this up. However, it's unnecessary, as many surprise at-home date nights are very easy to set up.
You may be fed up with drinking, but there are many inventive at-home date night ideas to be had that involve drinking that'll certainly make you fall in love with having a tipple at home again – as well as making you fall in love. With your partner again! You could surprise them with a few different types of wine and organize an impromptu wine tasting session with them. This idea may require you to put in a little bit of research beforehand, but that can, of course, be done secretly. All you've got to do is head out to the shops for a minute and pick up a few different styles of wine, layout samples of each, and prepare some tasting notes to discuss them with your partner. They don't necessarily need to be the most expensive wines – plus, the wine you buy in the supermarket is always going to be nothing compared to what you would pay for a bottle in a fancy restaurant. Wine has, of course, always been associated with romanticism. Still, it has also been a symbol of rejuvenation, so wine is always a good idea when it comes to bringing new excitement to your relationship at home.
One of the best surprise home date night ideas to organize at home, and one that can also involve plenty of wine, would be to organize a surprise picnic for your partner in the garden – if, of course, the weather permits! Your partner will respond well to this classic romantic gesture. Plus, it's super easy to set up! All you'd need is a rug, a basket, and enough food and wine supplies. Pick up some of her favorite cheeses and turn it into a romantic wine and cheese tasting – on your own back lawn! This idea works best on a summer evening when you've got plenty of time to enjoy it before the sun goes down.
If you've got a projector, you could project a screening of your partner's favorite movie in the back garden – this would be the perfect way to finish off a nice romantic picnic/wine-tasting session. A projector will always be a good investment and can provide entertainment for many at-home dates in the future. However, if you don't have a projector and are unwilling to invest in one, finishing things off in front of your T.V. will create almost the same effect. Whatever you do, remain within your budget, and make a creative date night to remember!
Best at Home Date Night Ideas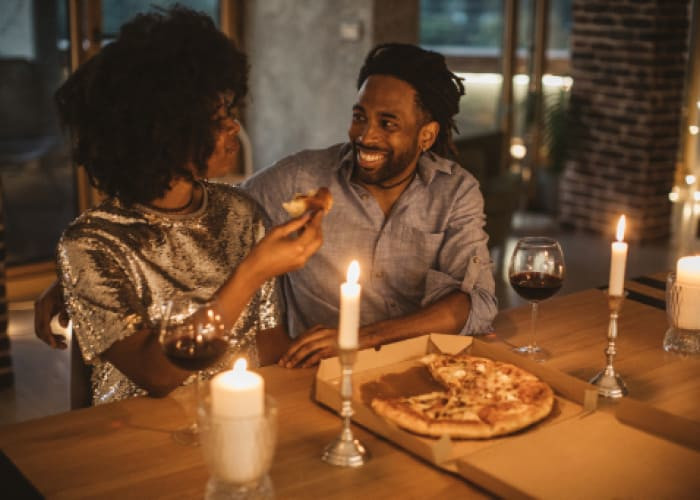 There are, of course, a wide variety of other at-home date night ideas that cost little-to-no money, and some of which can be done without the help of alcohol. If you fancy trying out some cool home date ideas, all you need is each other and a little imagination. You could play such daring games as 'never have I ever…' or 'would you rather…', which can create hours of fun and much hilarity. With such games, you could even learn out a whole lot more about your partner that you never even realized – or never would have known, had you not organized a cheap stay-at-home date! You could really go far and uncover some of your partner's deepest darkest secrets. These games are made a lot easier to elicit interesting answers out of one another with the aid of alcohol, but it is not a requirement.
Another cool home date night idea would be to reflect on how you met in a fun and creative way. As poetically as possible, you could each write how you met and then exchange stories once finished to see how they compare. You could do this in a video diary format, which will keep a permanent record of both of your recollections to watch in years to come. You could also focus on different points of your relationship, such as important moments or memorable dates, and give these events a similar treatment. You may remind one another of something they had forgotten.
You could spend the evening organizing photos on your phone, and printing them out if you have the facilities, and organize a year-in-review, which can be good for reflection and mental health. You could organize photos and other souvenirs from recent times and organize a romantic scrapbook. This cheap home date night idea is made all the better while listening to music that you fell in love with, with dim lights and lots of food and drink.
Speaking of dimmed lights, organizing a candle-lit dinner is a very simple but effective way of turning your home into a romantic getaway. It really changes the entire mood of your dining area, brings a little feng shui into the equation, and makes eating dinner with your partner even more romantic.
Other cheap food-related home date night ideas include:
Having a chocolate fondue evening
Cooking a meal with your partner that neither of you has made before
Organize breakfast-in-bed for one another
Order a takeaway from one of your favorite restaurants
There are several more obvious cheap home date night ideas you may not have thought about. You could get out the cards or the board games and have some competitive rounds of some of your favorites. Are you feeling flexible? Twister is always a fun and challenging way to spend an evening with your partner. Feel like burning off some energy? You could reconnect with your childhoods and play a couple of rounds of good old-fashioned hide-and-seek.
To finish off, there's nothing like a relaxing, romantic bubble bath.
As you can see, the list of fun, cheap home date night ideas is seemingly endless!