How Can I Get Girl Friend in this Day and Age?
On a biological level, human beings just want to be loved. It's in our DNA. We are supposed to fall in love, have babies, and preserve our species. On a social level, a girlfriend makes you feel wanted – so it's only natural that you're craving intimacy and affection. That's why we have created this nifty guide to help you find your soulmate – or just somebody who can show you a good time.
Check out our top ways to get a girlfriend. With any luck, you'll be waving goodbye to the lonely single life and saying hello to a romantic adventure with a like-minded partner.
Where Can I Find a Girl Friend?
If you are struggling to get a girlfriend in your everyday life, you may want to try these suggestions. These are tried-and-tested ways to meet somebody, whether you prefer to chat to people online or strike up a conversation in your local area.
Go to Your Local Clubs and Bars
This is probably the most popular "traditional" way to meet people in your city. Nightclubs and bars are full of single people looking for romance, intimacy, and even casual fun. If you're hoping to meet somebody who'll bring a little bit of joy to your life, you're best bet is to hit these places and strike up a conversation with whichever attractive woman catches your eye. Of course, they may knock you back, but that's just an unfortunate part of modern dating.
Remember to always be respectful and never try to initiate something if they do not reciprocate. You should also brush up on rules around consent. If a woman is too drunk, she is no position to make any decisions. If you ever find yourself in that situation, opt to give her your number and make sure her friends get her home safely. By acting like a gentleman, you'll make a better impression in the long run.
Join a social group or sports club
If you don't enjoy going to bars – or you would prefer to get a girlfriend sober – you may want to think about joining a social group. Enjoy walking? Join a rambler's society. Can't get enough of modern literature? Sign yourself up to a local book club.
One of the best ways to meet like-minded people is by throwing yourself into hobbies you truly enjoy, which also incorporate a social element. Get chatting about your shared interests and, if you click, the conversation should start to flow pretty quickly.
This may seem terrifying, especially if you're not the most confident person trying to get a girlfriend. But it's great to test yourself and push yourself beyond your comfort zone. Women are attracted to confidence, so don't be afraid to make the first move and strike up a conversation.
Take the plunge and sign up to an online dating service
Online dating is becoming the quickest way to get a girlfriend. Why? Because so many people are using these sites on a daily basis. A recent study indicated that a quarter of all young people are currently using matchmaking services, thanks to the prominence of mobile dating apps like Tinder and Bumble.
We could give you a million tips for using these sites, but you'll be here all day. Most of these sites are free to join, and most users find plenty of success if they take the time to fill out their profile properly and upload a number of clear photos. Don't be afraid to send the first message either.
Keep in mind most girls are inundated with inbox requests on these services. You'll have to say something unique if you want to stand out and get a girlfriend. This doesn't have to be a cheesy pick-up line, especially if you're not the kind of person who uses those sort of things. Just be yourself, and good things will eventually follow.
What Is the Best Way to Get a Girlfriend?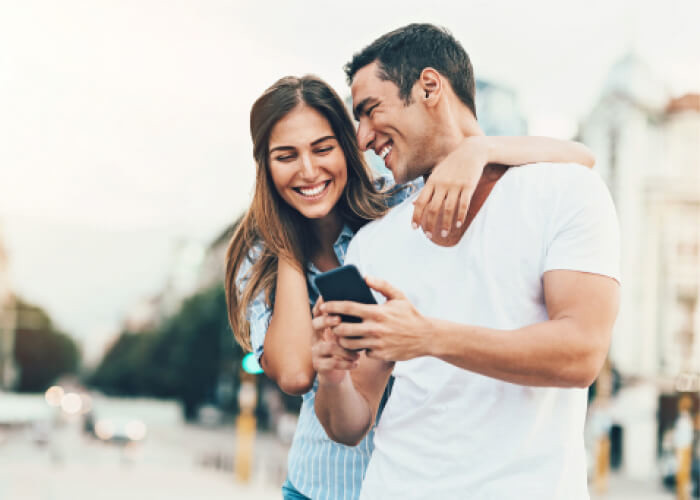 Never try to be anything except your perfect self
This may sound like a total cliché, but we could not give you any better advice. No matter how desperate you are to get a girlfriend, you don't want to be with a woman who thinks you are something you are not. This means being honest from the get-go. Don't pretend to like a band she does if you don't. Don't say you also love her favorite film if you actually think that movie is rubbish. Be honest and wear your passions on your sleeve.
On the whole, women don't really care where your interests lie; they just like people who are not afraid to be passionate. Love the things you love, and don't be afraid to share them. After all, the best girlfriends are the ones with whom you have a genuine connection. If it's meant to be, she will like you for who you are.
Make an effort to look presentable
We are not asking you to go out and buy a whole new wardrobe just to get a girlfriend. But you should take an element of pride in your appearance. If your beard is getting unruly, tidy it up. If your hair is shagging in your eyes, take a trip to the local barber and sort it out. Also, remember to shower and brush your teeth before you leave the house, just in case you meet somebody nice.
Obviously, you may not get a girlfriend today, but you will turn somebody's head if you continue to look after yourself physically. Not only does this benefit your romantic prospects, but you'll also feel much more confident. This brings us onto our next tip.
Try to be confident around girls
Women are attracted to confidence more than anything else. This is why you see beautiful girls going out with men who are physically less attractive. They want a guy who is not afraid to speak his mind. If you are timid by nature, work on speaking to people more often to get a girlfriend. This starts with a friendly hello or casual small talk with the people you meet in your day-to-day life. Get your practice in because one day, your perfect woman may walk into your life, and you want to be able to strike up that conversation without any issues.
Don't be afraid to make jokes or ask for her number. As the old saying goes: if you don't ask, you don't get. What's the worst thing that can happen? She says no. That's not the end of the world. You can move on with your life and will probably have better luck and get a girlfriend next time.
How to Get a Girlfriend Fast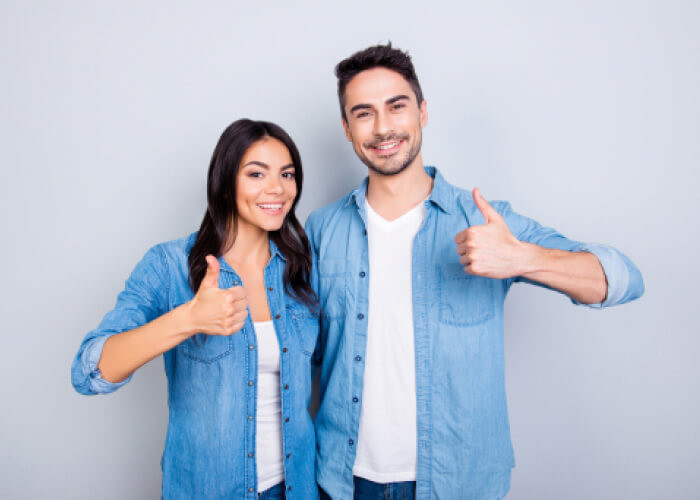 We hate to break it you, but there's no way of telling how long it is going to you to get a girlfriend. However, if you follow some of these how to get a girlfriend steps, you'll be well on your way to meeting the love of your life.
Try your hand at speed dating
Speed dating might seem like an outdated way to get a girlfriend, but there are still plenty of individuals who take the chance on this unique matchmaking idea. For those who are unaware, speed dating is an event where you go on a series of dates in quick succession, which last around two minutes. You can meet a lot of people in a short space of time, hopefully making some sort of connection.
It's easy to find these events; they're often held in local establishments which can be hired out for the purpose of the evening. You do have to pay to get involved, and there's no guarantee that you're going to be successful. However, if you're looking for something a little bit different, speed dating might be just the thing for you.
Ask your friends to set you up with somebody
Few people know you better than your closest friends. If you are struggling to get a girlfriend, ask your friends if they know anybody who is single and looking for somebody just like yourself. The chances are they will know somebody. Whether they can convince them go on a date with you is up to them, but the least your friend can do is put in a good word.
They can paint you in a good light straight away, which means your prospective already has a good first impression. It's up to you to seal the deal. Dress to impress and come equipped with interesting conversation starters. You can talk about how you both know your mutual friend and branch off from there.
You may be nervous about asking a friend to set you up, but this might be just what you need to get a girlfriend.
Alternatively, you could ask out one of your friends
This may be the riskiest suggestion on the list, but have you considered asking one of your friends if they want to take your relationship to the next level? Consider it for a second – you already like to spend time with them, and you have developed an easy rapport. Studies show most lasting relationships develop from friendships. If you think there could be a spark between yourself and a close lady friend, you may want to take the risk.
There's a chance you could make things weird for a while if she says no, but you could also open up a whole avenue of romantic possibilities.
We hope we've inspired you to try a different approach to finding a girlfriend. If you have any other suggestions, we would love to hear them!
Best of luck in your search for a woman, readers!