Advice on Buying Plus Size Casual Date Outfits
Unlike men, plus size women worry about their belly area. They tend to put on baggy clothes for casual dates, which only draws more attention. On the other hand, trying to fit into smaller clothes makes their body look obese.
To overcome this problem and boost one's confidence, choosing outfits that flow gently over one's curves is a good idea. Some undergarments complement plus size casual date outfits and tend to hide one's flaws.
Buying loose tops or T-shirts is a perfect way to hide one's belly. If one prefers casual dresses, going with narrow vertical stripes that are maxi-length or slightly under the knee is a nice choice.
Black, white, or blue-white clothes always look pretty on plus size people. High waist jeans fit the description, but one should be mindful of the type of belt to buy as low-rise jeans may pop out the belly area.
How to Look Good With a Plus Size Casual Date Night Outfit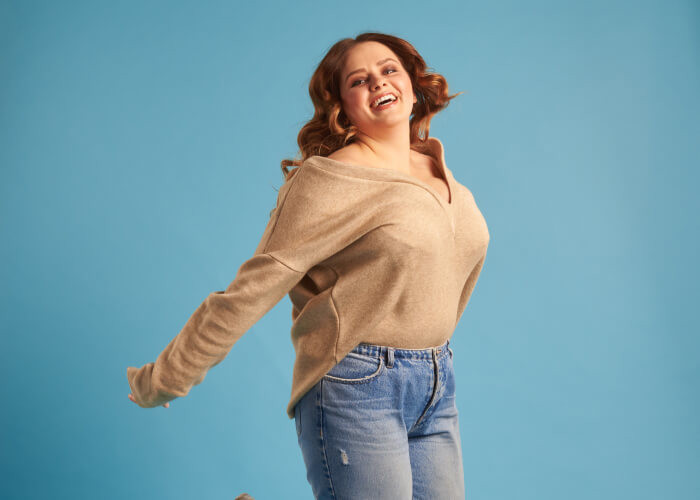 Many plus size people are overwhelmed when it comes to deciding on a perfect curvaceous date night outfit. The secret of looking attractive is dressing up according to your shape and not necessarily wearing what you think makes other people admire you.
It shouldn't be a problem if you have been somewhat fluffy all life or if you became a little bit heavier after hitting menopause. You don't have to go shopping for the occasion; instead, be creative to save your time and money. Check our do's and don't and pick a sexy casual date outfit from your closet.
Don't wear tight or too baggy clothes
Trying to fit into smaller clothes will only make you look fluffy, not slim. Forget about the latest trends and focus on your comfort. Tighter clothes will only make you uncomfortable and exaggerate your weight.
On the other hand, walking in tent-like clothes while trying to hide your body will make you look quite unattractive. Don't wear sloppy clothes on a casual date but put on something that is not too tight or too loose instead. Complete the plus size look with a kimono or cardigans and avoid anything with big pockets.
Wear bright colors on your lighter half
If you have a big bust and smaller hips, consider wearing dull colors on top and bright colors on the bottom. Moreover, if you have thicker thighs, putting on darker pants will do just fine. For example, a white blazer and black leather pants are considered a good combination.
Avoid unique designs and details on your heavier half
Although most casual plus size clothes have unique designs, avoid wearing detailed ones on your heavier half. Embellishments, pockets, buttons, and zips draw a lot of attention. Don't wear jeans with steads that exaggerate the rear pockets if you have curvaceous hips. Wearing sleeveless tops for people with buffy arms makes them look even buffier and heavier.
Choose one-colored loose tops, shirts, T-shirts, or blouses
Wearing multicolored tops or T-shirts might not look good on a plus size man or woman. A one-tone blouse or a shirt with a beautiful pattern is good enough for a casual date night outfit.
If you possess Parker, Galle, Peasant, Cold Shoulder Statement tops, or ruffle blouses, make use of them. Match any of the mentioned pieces with Raw Hem skinny jeans or Ripped Boyfriend jeans. Complete the casual look with either Berkley T-strap sandals or softy loafers and a calf hair porch or a foldover clutch.
Wear thick fabricated skirts
If you prefer skirts to pants, high raised, thick fabricated skirts should be your first pick. They can be of bright or dark colors considering which part of your body is heavier. It should be at the maxi length or slightly below the knees if you have thicker thighs. A denim skirt or a stripe-pleated skirt can go hand in hand with a faux leather crossbody and ankle strap sandals.
Nine Plus Size Dinner Date Outfits to Consider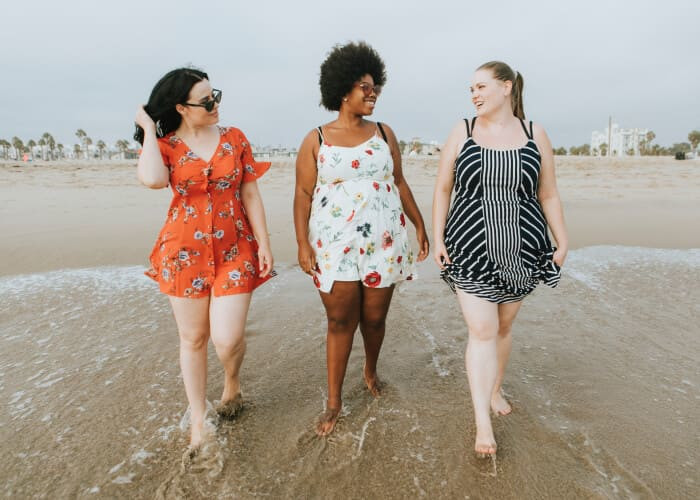 Choosing a dinner date outfit is one of the most distressing moments where one is fully obsessed over clothes while trying to figure out what to put on for the occasion. There's no reason to stress over your size. Below are some good examples of casual date wardrobe ideas for curvaceous women that make a good impression regardless of the season.
Slim vertical striped dress
A stunning dress slightly below your knees that has playful stripes would perfectly match with a pair of chank heels and a slim bag for a dinner date.
A flattering dress
If you have a thick rear compared to your bust, showing up for a date with a fitting dress, a clutch, and a pair of heels will bring out a classic and stunning look.
Maxi dress and metallic shoes blend well
A lace maxi dress is a perfect idea for a dinner date if you are tall and fluffy. Try different colors of your choice with some metallic shoes and a pouch.
Animal print top looks
Bring out a classic look by cropping the brown top with an animal print and a black skirt. Complete the look with a fitting black waist belt. Don't forget a pair of sandals!
The cashmere turtleneck trick
A slightly below-the-knee black or brown leather skirt will match perfectly with a grey cashmere turtleneck. Put on a few rings and rock the date with a chain handle gray or black bag.
Knee-high boots elegance
Show versatility by putting on black leather pants, a loose white blouse, and add black knee-high boots to the mix. Complete the look with a brown or black trench coat for a perfect combination.
Sequined dress for the gala
If your dinner date is at some fancy place or celebration, don't shy away from glitters. An eloquent look can be achieved by wearing a golden or silver sequined dress and matching it with a pair of silver or golden stilettos.
The wrap-style wear
Instead of putting on oversized clothes to hide your belly, getting a wrap-styled dress will bring out a fabulous casual look and make your tummy seem flat. You can finish off the look with a pair of sneakers and add a classic denim jacket.
Choose the right accessories
All accessories you wear should match your bone structure, weight, and size to look good. Tiny necklaces and chains will make you appear big and may seem lost on a plus size body. Big- or medium-sized necklaces and chains are a good pick. Pendants can make you look slimmer and taller, and any jewelry will draw anyone's attention.
Plus Size Summer Date Night Outfits Women Should Get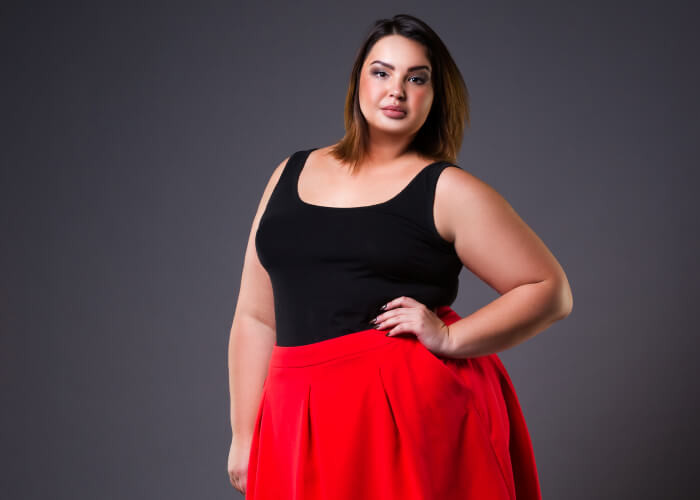 When anyone mentions summer outfits, what comes first to mind is a breezy style. Here are some stylish and confident summer date night outfits every plus size woman should have.
Printed or floral blouses
Printed tops and floral tops blend well with white jeans during summer. You can always rock such an outfit for casual dates or drinks with friends.
Own a gingham dress or top
Consider putting on an elegant gingham dress; don't shy away from some lipstick and a pair of glasses to complete the look. For tops, you can match them with jeans or skirts.
A denim shirt
You can either match a denim top with a pair of jeans or wear it on top of a maxi dress. You can knot the top if you feel like going for a sexy style.
A classic high-contrast dress
A vertical-slim black and white stripes dress never goes wrong on summer night dates. A pair of stilettos, matching earrings, and clutch will make you look fantastic.
Cold shoulder looks
If you prefer showing off a bit of skin, cold shoulder tops will be the best option for casual outings. Consider adding a waist belt that matches or blends the color of your choice of dress.
Rugged jeans with off-shoulder style
Wearing trendy blue rugged jeans coupled with an equally bright off-shoulder blouse with some accessories makes this look shine. Sporting this outfit is a simple way of drawing attention to yourself at summer parties.
Wear mixed prints of the same color
Mixing prints looks stylish and less chaotic. Try out combining prints of the same color; for example, a mint green skirt and a colorful top will blend well with chunk heels and almost any hairstyle. Make sure you have two to three pairs of summer shoes like buttercups to complete the unique casual look.
Being curvaceous shouldn't be a sentence to stay indoors forever. Who says that you can't go out for dates or enjoy yourself? A plus size woman can have as much fun looking as impressive as a smaller lady, if not more. We hope these tips will help you rock your next date!